3 Things You Should Know About Your Dog Walker
17 Sep | Posted by shar | no comments | animal care, animal lover, dog, dog lover, dog training, dog walkers, Dog walking, doggie, doggie love, Dogs, get to know us, pet care, pets, puppy, puppy love, rescue dog, Sea Spot Walk, tips from a dog walker

1. We love it when you respond to our reports of the walk.
We get to know your pup, but we hardly ever get to see or talk to you! So, when you respond to the messages we send, we love to get to know you a little bit! Your responses also give us more insight into your pup's temperament and health and let us know if the things we are seeing with them are normal, or if there is something we should keep an eye on. If ever we forget to mention something, or our message is a little unclear, we love to get questions from you so that we can clarify. Being able to communicate with you helps us do our job better, so we love to get responses from you!
2. We fall in love with your pup.
We get to know your pup's personality, temperament, and quirks while we walk them. And we become very bonded to them. We look forward to seeing them each time we have a walk, and we love to give them love and attention. Their unconditional love for us really solidifies this bond, and before we know it, we have fallen completely in love with your pup.
3. We mourn them when they pass.
Because of the special bond we form with your pup (see #2), when we get word of their passing, we are devastated too. That might seem a bit strange since they aren't OUR dog, but we got to spend quality time with them, and because of their wonderful personality, and unconditional love, we lose a piece of our hearts with each pup's passing.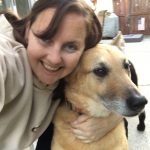 Interested in hiring a dog walker for your pup? Sign up here!